OPC-UA
CloudRail Use Case
About OPC-UA & CloudRail
OPC-UA stands for Open Platform Communications United Architecture and is a universal data exchange standard for industrial communication. OPC UA is independent from manufacturers or system providers, thus it can be used to enable communications between machines or from machines to any server or cloud-service.
Wether you are operating new machinery with OPC-UA already integrated or want to retrofit your existing machines with an OPC-UA server, CloudRail is a fast and convenient solution to connect with cloud-services like AWS, Azure or Alibaba.The edge gateway CloudRail.Box automatically searches through the breach-structure of the OPC-UA server and extracts all of the contained objects. Subsequently, you can select datapoints and connect them to any cloud-service with just a few clicks using the CloudRail.DMC.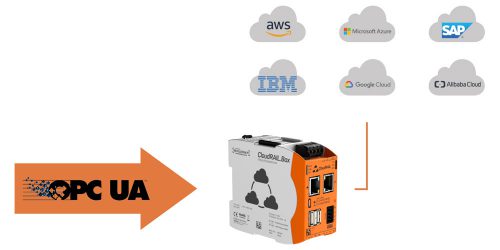 OPC UA to Any Cloud
The OPC UA Connector of the CloudRail.Box allows you to connect any OPC UA compatible device to the cloud. Just enter the IP address of the OPC-UA server, choose the data point and select the target cloud. OPC-UA is great for modern machines in a greenfield environment. Compared to retrofitting, it uses already existing sensors and requires less hardware.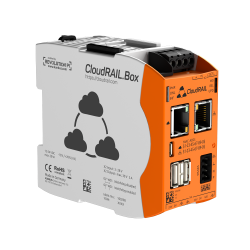 The CloudRail.Box as an OPC-UA Edge Gateway
The CloudRail.Box connects to an OPC-UA server through the right ethernet port, which is completely separated from the network connected to the internet. The system can automatically join the network, list all OPC-UA data points and connect them to a supported cloud platform like AWS or Azure. All features like Edge Computing, Auto Device Provisioning or Remote Updates work for OPC-UA as well.
Ready to start your next IIoT project?