Pricing
This is what you need to use CloudRail:
The CloudRail.Box (Hardware)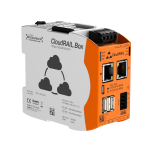 CloudRail Subscription
The CloudRail pricing is always a combination of the hardware price for the CloudRail.Box and a subscription based on the number of sensors or actuators which are connected to the cloud via any CloudRail.Box (Sensor to Cloud Connections). The subscription covers the use of the management cloud as well as new features and updates for all connected CloudRail.Box devices.
Why a subscription? We believe this is the only possible way to offer a professional service like CloudRail. Here's why:
Edge gateways are connected to the internet and thus require constant security updates
Cloud services will change or new ones become relevant which requires updates
Edge Gateways need to be managed centrally (Device Management Cloud covered by subscription)
Cloud platforms charge based on a subscription as well
If you prefer to buy a piece of hardware without any ongoing support, please do so. CloudRail is a professionally managed solution which can't work without a subscription.
| Sensor to Cloud Connections | Price per Month |
| --- | --- |
| 1-3 | Free |
| 3-100 | 3€ per Sensor & Month |
| 101-500 | 2€ per Sensor & Month |
| >501 | 1€ per Sensor & Month |
| Enterprise Plan? | contact us |
Optional Features
| Optional Feature | Price per Month |
| --- | --- |
| Edge Computing | 19€ per CloudRail.Box & Month |
| Multi Users with Rights Management | 39€ per additional User & Month |
| Enterprise Support | contact us |