Pricing
The CloudRail pricing is always a combination of the hardware price for the CloudRail.Box and a subscription based on the number of sensors or actuators which are connected to the cloud via any CloudRail.Box. Packages are always per account and can be shared across multiple CloudRail.Box devices.
CloudRail Subscription
* Sign-up for free now and choose your plan later in the portal. No credit card required.
CloudRail.Box (Hardware)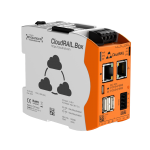 599€
per CloudRail.Box (one time)
Order CloudRail.Box

Order a CloudRail.Box through our online shop (worldwide shipping) or contact Sales.

Create Account

Create an account on the CloudRail Device Management Cloud.

Link Box to Account

Link your CloudRail.Box'es to your account using the serial numbers.

Select Plan

Choose a suitable plan in your Device Management Account.